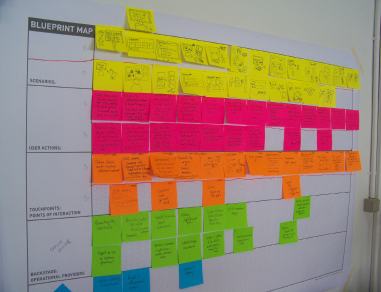 Service Design: shaping the future!
The paradox of service design: by investing time and money to go through our profound service design process: you will, after implementing the roadmap, spend less money, have a better service level and more happy consumers.
Service design gives answers to:
– What is for our organisation the added value of e-services?
– How can we align our employees in the same strategy direction?
– How can we ameliorate the costumers experience?
– How do our services has to evolve to be future proof?
– Do you want to ameliorate your services and in the same time to reduce costs?
– Do you want to be more efficient without breaking down the services provided?
– How can you even better serve your costumers without spending more costs and even lower them?
What is service design?
It's a methodic to ameliorate the quality and, if necessairy, the orginality, of your services. This amelioration target your customers services but also your employees.Innovation in services is not new. But doing so in a structured, integral and human centred way is new.
By this method we start with the needs and wants of the customers and search together with them and the other stakeholders to amelioration and solutions. We make ideas very quick concrete by pictures, drawings and make ups, and check them with the customers and employees.
In services design different specializations come together: etnographics, consumer research, interaction design, product design, industrial design, service marketing and business strategy.
Why service design?
It starts with an integral look at the services. The interactions of the user and the service are studied from A to Z and designed. Instead of looking at one aspect, we start from the goal a costumer has to accomplish. During the analyses and design of the service the steps a costumer has to make to reach his goal are visualized and the means the organization or service department has to help the costumer to reach his goal are mapped. Besides this, also the needs and wants of the service employees are looked at.
These analyses gives insights about what is good today, what can be ameliorated, what's missing and what's not needed. After this process integral solutions over the different service departments are designed and visualized. Also the collaboration between departments are studied and mapped.
If you really listen to your customers and employees you can get suprisually insights.
Often their motives are different than you think and can you design the provided services taking these insights into account.
What result can I espect?
Very simple: going through this process provides a more efficient service with lower cost and with more client and employees saticfaction.
This seems a paradox, but it can be explained by:
– by looking in an integral way at your services, you can get a helicopter view, w the different sevices and underlying processes can be match better.
– by going throudgh this procees together with your employees, there a dynacmi wotch result in a bigger involment of every stakeholder. This result in more responsibility, engagement and happiness of your employees.
– by visualising the services, processes and the different actors; everybody will have a view of the to follow strategy.
Service design is a continue process, a workmethod, a mindset to look on a daily basis with new eyes at the services and to take contiously small actions.